Shadicats' Easy Pizza Recipe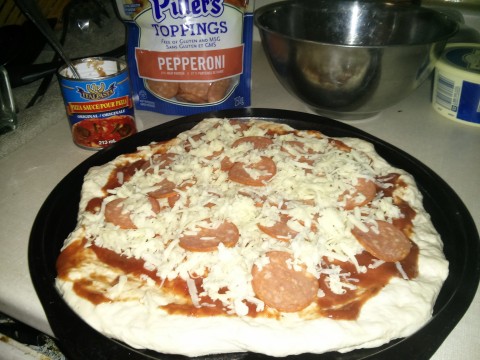 Step 1.  Locate your phone
Step 2.  Dial #11-11
Step 3.  Laugh!  I kid.
Anyone who knows me, knows I love pizza.
The Dough
This is a modified bannock bread recipe that was passed down to me by my mother, who learnt it from my Dad's mother.  Probably the only family recipe I have.
1 cup flour
1/2 tsp salt
1-4 tbsp vegetable oil or margarine or butter or shortening or lard (greasy goodness)
2 tsp baking powder
1/4 water (add more if needed)
Mix the dry stuff first, add water and greasy goodness until it is dough-like. Spread on pan.
THE EASY WAY IS TO BUY THE DOUGH FROM YOUR STORE.
Easy/Lazy, whatever floats your boat mate.
The Stuff
Spread your choice of sauce with a tablespoon (tomato, BBQ, hot sauce, olive oil…eta).
Sprinkle your choice of cheese (cheddar, mozzarella, goat…eta.
Toss on your choice(s) of toppings (pepperoni, bacon, onion…eta) – LESS is better, more veggies equal soggy pizza.

I'm a fan of pre-cooking toppings as I find this is the best way to get crispy anything on a pizza.
Cook for approx. 15 minutes or until crust is golden brown.  Let rest 5 minutes before cutting.